Memories from the 'Burbs
Merlyn and Jean Wolfe built a new house and soon had their young family moved in. Life for the young couple soon became intertwined with the community. It was a small village, but relationships with neighbours and friends quickly became inter-dependant. We lived on the corner of a very busy main street, where coal trucks sped by on a regular basis on their way to and from Pt Burwell's busy harbour.
Large ships would come into the port, carrying burdens of coal from the US, through Lake Erie. The channel was over 30 feet deep at that time – plenty of depth to accommodate heavy cargoes. It was an active port, with lots of fishing tugs, harvesting pickerel and perch for the local markets. Ralph Hurley was a master ship builder and was known throughout the region for his craftmanship.
Vienna has 2 bridges. No matter whether you come from the north or the south, you have to cross the Otter Creek to get into the village. In the spring, it was not uncommon for the creek to spill over it's banks and flood homes and businesses downtown  – one year depositing over 4 feet of water and sludge in our basement.
The new house stood next to Bill Bugler's grocery store where you could go to the post office, get groceries, milk, ice, bread etc. Next to Bugler's to the south, was Herron's restaurant and Hugh Pace' welding shop next door. If memory serves, Kay Herron cooked a mean burger and fries and you could be treated to an ice cream cone for dessert. Daughter Dennise was friends with my sister Kim and at 4 or 5 years old, I thought Dennise' sister Mary was the absolute cutest.
My memory of Hugh Pace was that he was deaf as a doornail. Walking into his smoke filled shop, Dad would always have to yell when talking to him. According to local lore, Hugh had punctured an eardrum while using a toothpick to clean his ear, but it never stopped him from becoming a true welding craftsman. In summer months, he was called on to make horseshoes for the Belgian workhorses that were used to pull tobacco "boats" through the fields, allowing the "primers" to deposit armload after armload of freshly picked leaves. They were majestic animals and despite their size very gentle and compliant.
At 8 years old, my job during harvest was to ride the horse down the tobacco rows, yelling instructions at the behest of the primers. "Whoa" and "giddyup" became part of my early vernacular. All for the princely sum of $2/day – an additional $3/day if I picked up loose leaves in the kilns as well.
Joe and Lil Petrie ran the Vienna hotel next door to the welding shop. Their French bulldog used to chase me down the street as a little guy and hump my leg. Mom used to come running out the door, screaming like a crazy woman and wielding a broom over her head to hit the dog. I was no doubt terrified.
The End of A Streak
The hotel was a regular watering hole for the locals and transient workers during harvest. Draft beer was $.10/glass and on any given weekend night, the place was hopping with music and dancing to a live band. During the day, lunch was served at the grill. As a young, spontaneous and perhaps somewhat inebriated patron, I may have even streaked though the pub on a dare. Just a rumour…..but if I had to do it again, I would have worn a mask. 😊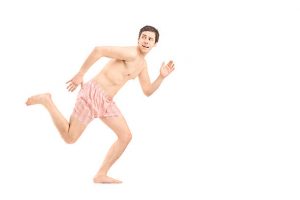 Learning from this mistake I tried again. This time after a late night hockey practice. On a dare, Ross Melanson and I attempted to streak around the ice, thinking no one was there. I wore a goalie mask to hide my identity, but as I slipped going around the 3rd corner and fell flat on my……manhood?…..I heard Heather Cowell, who was dating my friend Randy Green, shout out "I hate you Kent Wolfe". I guess my identity was "exposed". That was the last of my streaking days.
Across the street and bordering on the banks of the creek, was Ted Beattie's garage and not far from him to the north, Howard Roduck's BP station (and my first near brush with the law – another story for later).
If there was a January thaw resulting in the creek overflowing, there would often be a makeshift pond created behind Beattie's, where pickup hockey games would often last all day and well into the evening. I recall the bigger kids shooing us little guys out of the way so we didn't interfere with the flow of the game. All 3 Thompson boys were good players back then. Tom, Dave and Paul could really dangle with the biscuit.
Next to Roduck's was the park, where each year there was a grand carnival – or at least grand to me – run by the Lion's Club. My buddies and I would go there the day after the carnival and search for quarters that had inadvertently been dropped near the games of chance. There was always a raffle for a new Chevrolet, compliments of Grant Motors in Straffordville. In fact there was another raffled at a subsequent carnival in Straffordville a few weeks later. Amazingly I recall George Pace won cars 2 times within a couple of years. I may have more to say about George Pace on another post.
North of Roduck's garage sat the humble abode of Tom Terry and his menagerie of cats. Tom was an elderly gentleman and an easy target for kids to annoy. I don't recall if he was a widower, or just an eccentric old guy, but he had more cats around his house than I could count. Next door to Mr Terry was the Central Pipe Line storage area.
Across the road from the park was Les Brown's hardware store, and next to him brother Hugh's grocery store. We could buy a coke for 8 cents, a bag of candy, or candy cigarettes for a nickel. It was a good place to dispense of our new found wealth, after the carnival cleanup. Topps hockey cards were 5 cents a package. We bought them for the gum, but I still have the hockey cards to this day (stored in a safety deposit box of course).
Runnin' Scared
Behind Brown's grocery store was a make shift incinerator, where cardboard and paper waste was burned on a regular basis. When I was around 4 years old, Steve Horton and I were fascinated by this little fire, and began poking at it with sticks, flipping cigarette packages into the air. I was wearing a nylon snowsuit at the time, and a spark caught my snowsuit on fire.
I was terrified and started to run across the street to home for help, but the faster I ran, the more the flames engulfed me. Thankfully Russell Ryan, an elderly gentleman that lived nearby saw the flames and came running. He threw me on the ground and managed to put the fire out. But the damage was done. I had 3rd degree burns all over my back and shoulders. Dr Hevenor tended to my wounds for what seemed like months after. He must have been a good Dr, as there are no visible scars today. It could have ended far worse. Seems it was a harbinger of things to come. Apparently I am a little accident prone ☹.
Next door was Earl Smyth's barber shop and pool hall, then the CIBC bank branch. Earl was average height, and always impeccably groomed. He reminded me of Errol Flynn with a pencil mustache and slicked back hair.  The shop had a single barbers chair, where he always cut hair on a Saturday night. Locals would hover around his black and white tv, watching Hockey Night in Canada.
The Gambler
For 25 cents you could pick a random number from 1-10 out of a chewing tobacco tin, written on a metal pop bottle top. If the final score of the game added up to your number, you would win $2.50.  On the odd occasion I did win – the money often went up the street a few feet and got deposited at Hugh Brown's candy counter. I recall saving to buy a Mastercraft 500 hockey stick. It was $5.00 – less than a roll of hockey tape now.
Saturday afternoons were often spent in the pool hall, playing "boston", "pea pool" or 8 ball. I became pretty good on the smaller tables, but never mastered the bigger snooker tables. "Shaky Bob Scott" was an elderly war veteran with what was likely Parkinson's disease at the time. His hands shook so bad, he could hardly hold a cup of coffee, but could he ever play pool. It was amazing how he could settle his shaking down just enough to make a shot. Oldtimers John Main, Andy Pazteur, Shaky Bob and others were regular visitors at Earls, sharing stories and reminiscing about life.
Ted Mills was a wiry kid and a frequent adversary to me. He could throw a pretty mean straight right fist to the snot box as I learned the hard way, several times while sporting a fat lip. I did eventually get a small measure of revenge, winning a pool cue from him playing snooker one day at the pool hall. I still have that cue all these years later.
Finally on the corner was Rina Roet's clothing store. The entire end of that block was destroyed in a fire around 1959, leaving only the barber shop untouched. I recall my parents waking me up late at night to let me watch the blaze.
Of course there were several other small businesses in the area. Gord Brackenberry hauled well water to fill depleted wells in the summer months and also ran a mobile chip wagon. There was Art Horton's Plumbing and Heating across from my house and behind Brown's Hardware. Central Pipeline was based in Vienna at the time, before eventually moving to Aylmer and what is now Epcor. There was a museum dedicated to the Edison family and of course many tobacco farms. A lumber yard was built at the south end of town and eventually was taken over by the Ketchabaw family. Howard Palmer had a construction company and later ran the Aylmer and Malahide Telephone Company.
Doug Brackenbury was a couple years older and introduced us to a "choking" game in grade 4. You had to hold your breath while someone would squeeze your chest until you passed out. Did I mention we did not live in a bubble?? I don't remember anyone ever getting in trouble for that, but it sure wouldn't fly today!
I had a Shetland pony as a youngster, though I don't recall it's name. Steve Horton also had one named Sparky. We would ride bareback and perfected running up from behind and jumping on cowboy style. I fell off one time on my shoulder and to this day periodically have an achy shoulder when the weather is damp. Ahhhh good times😊
As a small lad, some of the more legendary characters around town were Wayne Cole (noted for his daredevil airplane skills – and a devastating straight right fist), Wayne Palmer (got in a fight with a cop and was not arrested – everyone knew the local police back then) who later became a colleague at the telephone company.
Doug Brown had a never ending smile and a glint in his eye like he knew something you didn't. Doug was about 5'7, with red hair, and accompanying freckles, and a gold tooth. I worked with Doug at the telephone company years later. He was one of the nicest and most unassuming guys I ever met. Apparently I ran over his wife Linda's cat one time, delivering him home from a stag in the wee hours. I plead the fifth, as I don't recall the event at all, though she claims to this day that she has never forgiven me.
Rest in Peace Fluffy!!