The Entire USA Celebrated.
Monday July 4th 2022, we celebrated the birth of our second grandson. At 34 weeks, Lewis William Wolfe was a little early, but healthy, happy and breathing on his own, though only 3 lbs, 15 Oz. Geoff and Martha have been under so much stress, but weathered the storm and brought this little man into the world without incident – likely foreshadowing the amazing things he will accomplish in his life. Professional athlete – check, world leader – check, cure cancer – check! After all, most babies take 9 months to deliver. Lewis came along in only 7 months – extraordinary!!
There are no end to the possibilities.
Our daughter Lauren and husband Mark delivered our first grandson, just 3 months ago, on March 21st. Hers was an uneventful pregnancy, full of wonder and joy – the way we hope it will be for all our kids. Little Ben has a leg up on the world leader thing, but there is no doubt that Lewis is not far behind. Who knows, maybe they will team up to do great things together.
Martha and Geoff had a much different experience. Morning sickness, food aversions, a serious bout with COVID, high blood pressure, and finally an early c-section delivery. Worry for mom and worry for the baby's health was a constant companion. But today is a good day. Both mom and baby are healthy and in good spirits. Lewis has more hair than me already, so chances are he will catch up fast.
We had read about COVID pregnancies causing issues with pregnancies. Never did we think it would affect our family. Doctor's shared that it has been common over the last couple of years for pregnant women to have a damaged placenta due to the effects of COVID. We learned a lot through this scary ride.
The placenta was not allowing enough nutrition to get to the baby to allow it to grow properly. He went from normal growth, to the 34th percentile, to the 14th percentile and finally to 7th. It was time to make a decision.
We are so blessed to live in an area with world class medical facilities and doctors. Martha and the baby were monitored constantly for blood pressure, fetal heartbeat and any abnormalities. At the hint of difficulty, mom was put on bed rest at the hospital. Further monitoring indicated it was time. Though the medical team tried to induce a normal birth, it was not to be.
Not to be deterred, Martha is a fighter and has passed that fighting spirit to little Lewis. He came out like a champ, ready to tackle the world.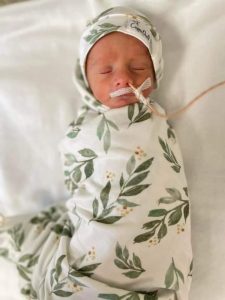 A decision was made at 2am to take the baby. At 3:30am our grandson was born healthy, though tiny. A few short weeks in the NICU and he will be home terrorizing mom and dad. Their lives will never be the same again – in the most wonderful of ways.
I must say, Lewis made a much quieter entrance than his dad did. He passed wind immediately after birth – and it has never stopped. Guessing Lewis will be less gassy than his dad.
Being a parent is a life long job. All parents intuitively know this, though there are hard lessons along the way. From the day the baby is born, till the day you depart this earth, your number one worry and priority is your children. Health, happiness, success, failure, bumps and bruises – both physical and emotional – are a constant worry.
Being a grandparent is a much different experience. You now get the perks of child rearing, without the worry.
It warms my heart to see how natural Martha and Geoff have taken to parenthood. You could feel the love and excitement on our brief calls. Yesterday we were able to visit the NICU in London and see Lewis in person. He is stretching and yawning already – bored with being in an incubator. Geoff has been a supportive husband and father through all this and Martha has shown us how tough and resilient she is. We love you both and even more now, with Lewis included.
Moving to St Thomas NICU late in the afternoon, he is one step closer to coming home. A few short weeks to gain weight and he will be home where we can start to spoil him.
Lewis, your papa has much to teach you. There are things that we won't tell your mom and dad so you have to learn early how to keep a secret. And just between you and me, we have some things to settle from when your daddy was a little boy……just sayin'
Recommended reading for Martha and Geoff: The Wonder of Little Boys – Wolfeish Musings, posted a few short months ago. More relevant than ever.